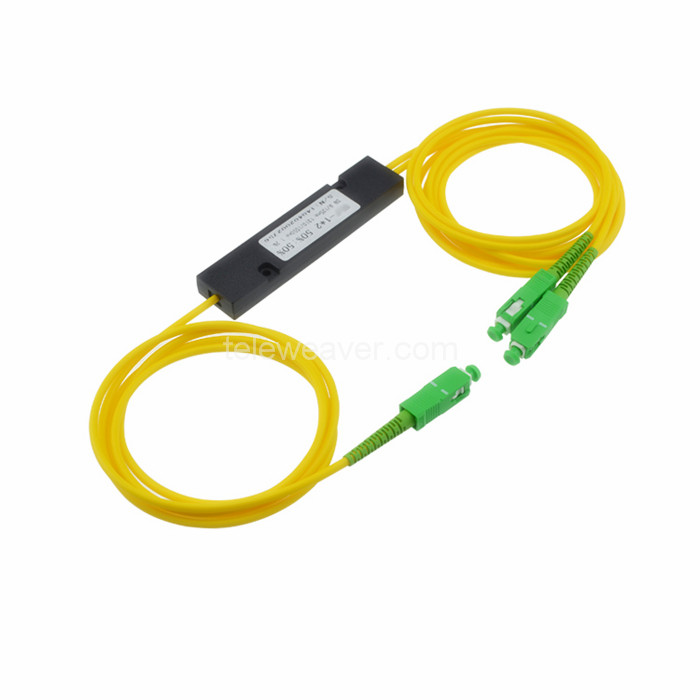 1×2 ABS Box PLC Splitter
Model:

PLC-1-2-ABS

Sample:

Free Sample in Stock

Time:

3 working days

Made:

Teleweaver

From:
Get Free Quote & Sample
Similar with 1x2 PLC Fiber Splitter for options
Introduction to 1x2 PLC Fiber Splitter
This PLC Splitter Module is a plastic module called an ABS box with ruggedized fiber jackets of 2mm and up to 3mm with no connectors.Fiber-Mart PLC splitters offer superior optical performance, high stability and high reliability to meet various application requirements.
Features:
Channel: 1×2
Cable length: customized
Fiber type: G657A1 or as customized
Small Size
Package: PP bag or blister package
ABS box type module
Plug and Play Ready

Multi-way cost is low, the more roads, the more obvious cost advantage.

Low Polarization Dependent Loss
Good uniformity & Low PDL
1x2 PLC Fiber Splitter Specification
| Parameters | Value |
| --- | --- |
| Configuration Type | 1x2 |
| PLC Splitter Type | Blockless PLC Splitter |
| Connector Type | SC/APC |
| Fiber Type | Singlemode G657A1 or G652D |
| Fiber Length | 1m or 1.5m or Requested |
| Package Style | Blockless Steel Tube |
| Operating Bandwidth | 1260~1650nm |
| Fiber Diameter | 0.9mm |
| Typical Insertion Loss (≤) dB | 3.9 |
| Insertion Loss (≤) dB | 4.2 |
| Loss Uniformity (≤) dB | 0.4 |
| Polarization Dependent Loss (≤) dB | 0.2 |
| Wavelength Dependent Loss (≤) dB | 0.3 |
| Return Loss (≥) dB | 50 |
| Directivity (≥) dB | 55 |
| Temperature Dependent Loss (≤) dB | 0.5 |
FAQs on 1x2 PLC Fiber Splitter
Q:I have a question regarding PLC splitter. Is there any way to make it bi-directional, if you shine light into fiber 4, you will see any light out of the IN fiber?
A:Hi, PLC splitter is generally used in PON network, if you use it in PON network, then it can meet your requirement, but if not, it can not achieve the bi-directional transmission. Because if multiple transceivers in the same wavelength from fiber 4 transmit signals to the IN fiber transceiver, then this transceiver cannot distinguish the signals. And PON network adopts Time division multiplexing technology, so the transceiver can distinguish the signals from different transceivers.
Q:Can I Install a Cable Splitter on My Own?
A:Most people will choose to have a cable or internet company come out to install a splitter.
Get FREE Quote & Sample in 12 Hours