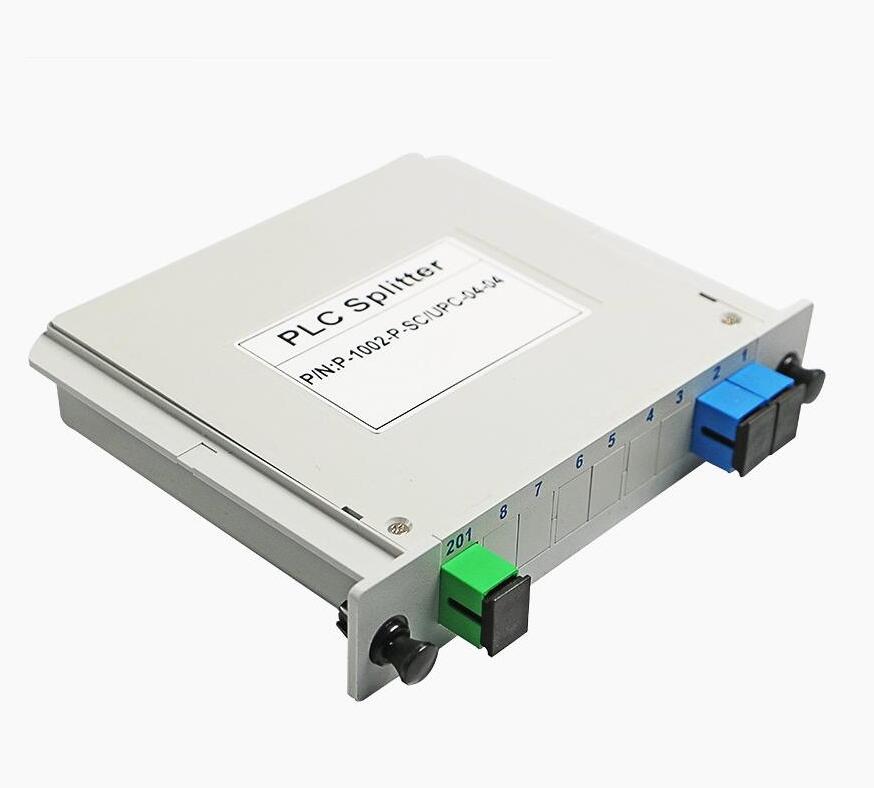 1×2 Cassette Module PLC Splitter
Model:

PLC-1-2-PLUG

Sample:

Free Sample in Stock

Time:

3 working days

Made:

Teleweaver

From:
Get Free Quote & Sample
Similar with 1x2 Fiber Optic Splitter for options
Introduction to 1x2 Fiber Optic Splitter
1×2 Fiber Optic Splitter Cassette Module and SMF-28e single fiber terminal, tail length according to client's specified. PLC Splitter 1×2 featured low IL& PDL, high isolation suit for 1260nm~1650nm optical fiber signals' splitter and distributing in PON networks. PLC Splitter 1×2 Blockless with one input and 2 output. Fiber Optic Splitter 1×4 is a kind of ODN product suitable for PON networks that can be installed in the pigtail cassette, test instrument and WDM system, which minimizes the space occupation. It is relatively fragile on fiber protection and need a complete protection design on carrying box body and device.
Applications:
LAN, WAN & Metro Networks
Telecommunication Networks
Passive Optical Networks
FTT(X) Systems
CATV
Value Added Module
1x2 Fiber Optic Splitter Specification
| Parameters | Value |
| --- | --- |
| Configuration Type | 1x2 |
| PLC Splitter Type | Cassette Module |
| Connector Type | SC/APC SC/UPC |
| Fiber Type | Singlemode G657A1 or G652D |
| Fiber Length | 1m or 1.5m or Requested |
| Package Style | Blockless Steel Tube |
| Operating Bandwidth | 1260~1650nm |
| Fiber Diameter | 0.9mm |
| Typical Insertion Loss (≤) dB | 3.9 |
| Insertion Loss (≤) dB | 4.2 |
| Loss Uniformity (≤) dB | 0.4 |
| Polarization Dependent Loss (≤) dB | 0.2 |
| Wavelength Dependent Loss (≤) dB | 0.3 |
| Return Loss (≥) dB | 50 |
| Directivity (≥) dB | 55 |
| Temperature Dependent Loss (≤) dB | 0.5 |
Get FREE Quote & Sample in 12 Hours