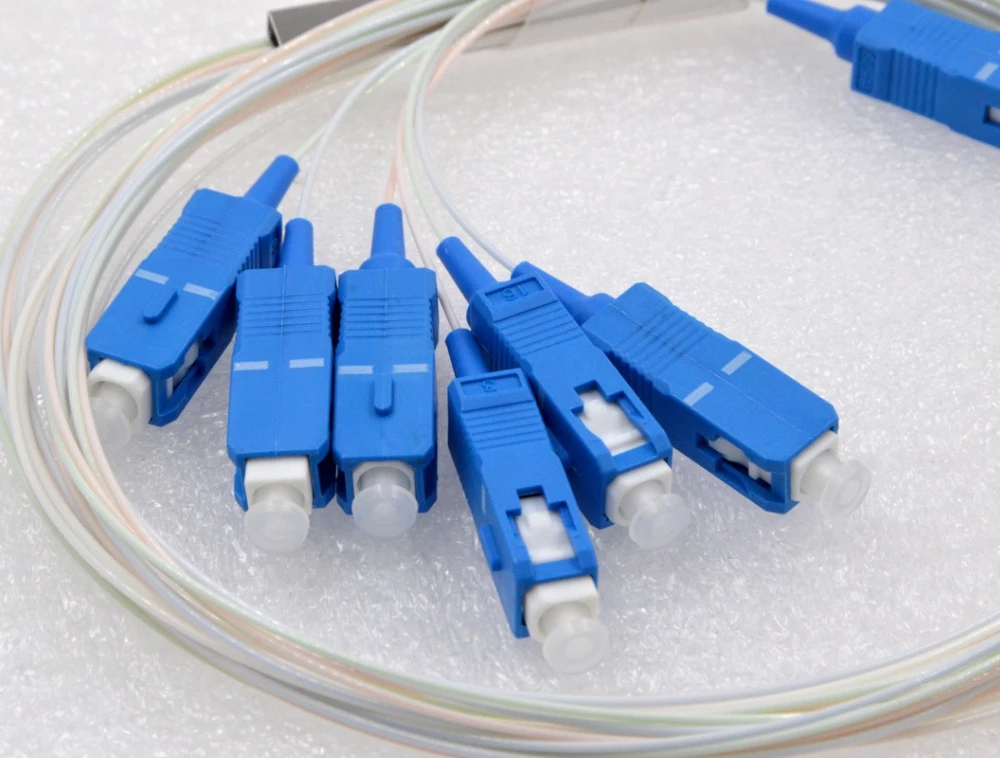 1×6 Blockless PLC Splitter
Model:

PLC-1-6-BLK

Sample:

Free Sample in Stock

Time:

3 working days

Made:

Teleweaver

From:
Get Free Quote & Sample
Similar with Fiber Optic Splitter 1x6 for options
Introduction to Fiber Optic Splitter 1x6
Fiber Optic Splitter 1×6 is the optical passive device, optical signal splitter or combiner, optical signal is generally on the same wavelength separation or combination. Fiber Optic Splitter 1×6 is a key component of the FTTX network. According to the different optical splitter port arrangement, and the tree splitter structure can be divided into symmetric and asymmetric star splitter. Fiber Optic Splitter 1×6 also can be divided into single-mode and multimode optical splitter. At the same time, Fiber Optic Splitter 1×6 can be made into narrowband optical splitter and broadband optical splitter.
Applications:
LAN, WAN & Metro Networks
Telecommunication Networks
Passive Optical Networks
FTT(X) Systems
CATV
Value Added Module
Fiber Optic Splitter 1x6 Specification
| Parameters | Value |
| --- | --- |
| Configuration Type | 1x2 |
| PLC Splitter Type | Blockless PLC Splitter |
| Connector Type | SC/APC |
| Fiber Type | Singlemode G657A1 or G652D |
| Fiber Length | 1m or 1.5m or Requested |
| Package Style | Blockless Steel Tube |
| Operating Bandwidth | 1260~1650nm |
| Fiber Diameter | 0.9mm |
| Typical Insertion Loss (≤) dB | 3.9 |
| Insertion Loss (≤) dB | 4.2 |
| Loss Uniformity (≤) dB | 0.4 |
| Polarization Dependent Loss (≤) dB | 0.2 |
| Wavelength Dependent Loss (≤) dB | 0.3 |
| Return Loss (≥) dB | 50 |
| Directivity (≥) dB | 55 |
| Temperature Dependent Loss (≤) dB | 0.5 |
FAQs on Fiber Optic Splitter 1x6
Q:Does this splitter can be used in OM1 application?
A:No, it doesn't. Our PLC splitters only support singlemode application, and the fiber type is G657A1, if you want multimode splitters, please refer to FBT Coupler Splitter
Get FREE Quote & Sample in 12 Hours