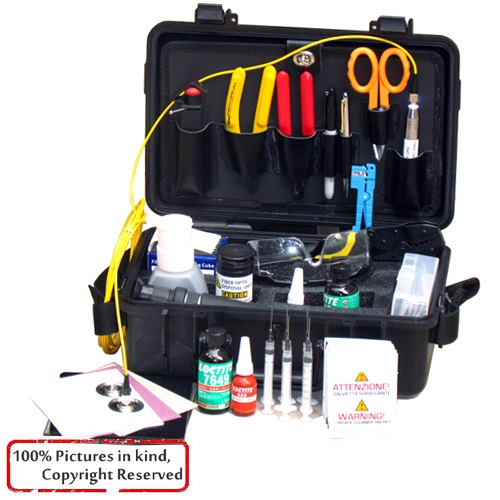 Fiber Optic Termination Kit TW980KE
Model:

TW980KE

Sample:

Free Sample in Stock

Time:

3 working days

Made:

Teleweaver

From:
Get Free Quote & Sample
Similar with Fiber Optic Termination Kit for options
Introduction to Fiber Optic Termination Kit
TW980KE tool kit is a complete anaerobic field termination solution, designed for field Engineers, containing all the required tools for field terminations and/or repairs.The use of Anaerobic Adhesive eliminates the need for curing ovens, reduces curing and termination time and, hence, reduces over all down time for the customer. Both kits are suitable for MM and SM. This fiber optic tool kit includes the essential items you need for fast and efficient termination of anaerobic style connectors.
TW80KE Fiber Termination Kit contains;
– 1 Fiber optic stripper CFS-2
– 1 KEVLAR Scissor KC-1
– 1 Carbide Scribe Tool TTK-174A
– 1 Fiber Jacket Stripper HW-108
– 1 Round Cable Slitter HW-315
– 1 Ideal 45-163 BlueBuffer Tube Stripper
– 1 Universal Connector Crimp Tool HW-801V(SC/FC&LC)
– 1 400x Deluxe fiber Microscope HW-400XA(2.5mm &1.25mm)
– 1 Fiber Continuity Tester MT-10S
– 1 FBT Fiber Optic Cleaning Cube,100wipes
– 5 99.7% IPA Cleaning Wipes (Pre-Moistened)
– 1 250ml Alcohol dispensing bottle with locked
– 1 Anaerobic Adhesive Hardener 50ml
– 1 Anaerobic Primer 1.75oz
– 5 Epoxy Application Syringe 3ml 
– 5 5µm Polish Film
– 5 1µm Polish Film 
– 5 0.5µm Polish Film 
– 1 2.5mm Universal Polish Disc (SC/ST/FC)
– 1 1.25mm Plastic Polish Disc(LC/MU) 
– 1 5.9″ Rubber Polish Pad
– 1 5.9″ Glass Polish Plate 
–  1 Fiber Optic Disposal Unit
– 1 Safety Glasses
– 1 Utility component box
– 1 Black Marker
– 1 Deluxe Carrying Tool Case (370×265×138mm)  
Fiber Optic Termination Kit Specification
Get FREE Quote & Sample in 12 Hours