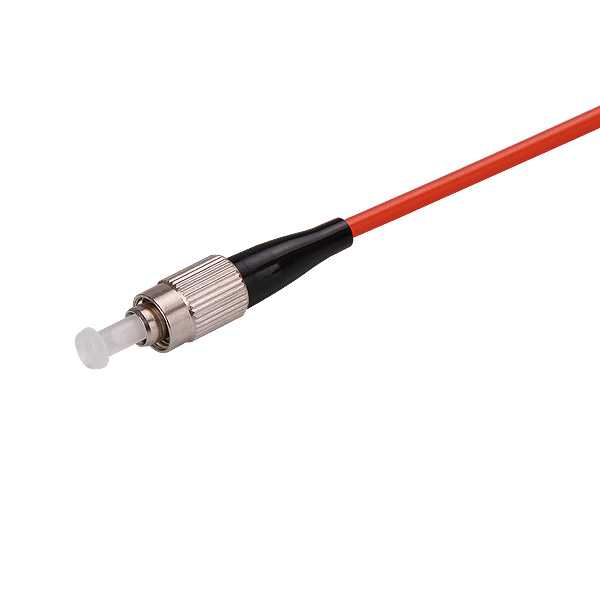 Pigtail FC Multimode OM2 OM3 OM4 Fiber Cable
Model:

PGT-FC-MM

Sample:

Free Sample in Stock

Time:

3 working days

Made:

Teleweaver

From:
Get Free Quote & Sample
Similar with Pigtail FC for options
Introduction to Pigtail FC
FC fiber optic pigtail connectors with low insertion loss and low back reflection; it is with high precision alignment and is widely used all over the world, Fiber optic pigtails are usually found in fiber optic management equipment like ODF, fiber terminal box and distribution box.
Features:
Fiber Type: OM2 OM3 OM4
Constructed from high quality connectors and standard fibers
Sheath Material: PVC / LSZH
Cable Diameter: 0.9mm,2.0mm,3.0mm
Length:1m to 30m
Pigtail FC Specification
| Parameters | Value |
| --- | --- |
| Fiber Connector | FC |
| Polish Type | UPC |
| Fiber Type | MM OM1 |
| Fiber Count | Simplex |
| Jacket OD | 0.9mm/2.0mm/3.0mm |
| Jacket Material | PVC/LSZH/OFNR |
| Insertion loss | ≤0.3dB |
| Return loss | ≥45dB |
| Tensile Strength | >100N |
| Durability(Times) | >1000 |
| Minimum Bend Radius | 30mm |
| Operating temperature | -40°C~80°C |
| Fiber-Grade | G652D/G657A |
| Cable Length | 1m/2m/3m/5m… |
FAQs on Pigtail FC
Q:Does single mode fiber support 10g?
A:When it comes to single mode fiber types, it can be categorized into OS1 and OS2 fiber, which are SMF fiber specifications. … Both OS1 and OS2 fiber optic cable support Gigabit and 10G Ethernet links. Besides, OS2 fiber can support 40G and 100G Ethernet links.
Q:Is Orange fiber single mode or multimode?
A:Fiber optic cable jacket colors can make it fast and simple to recognize exactly which type of cable you are dealing with. For example, the color yellow clearly identifies a single mode cable, while orange indicates multimode.
Get FREE Quote & Sample in 12 Hours