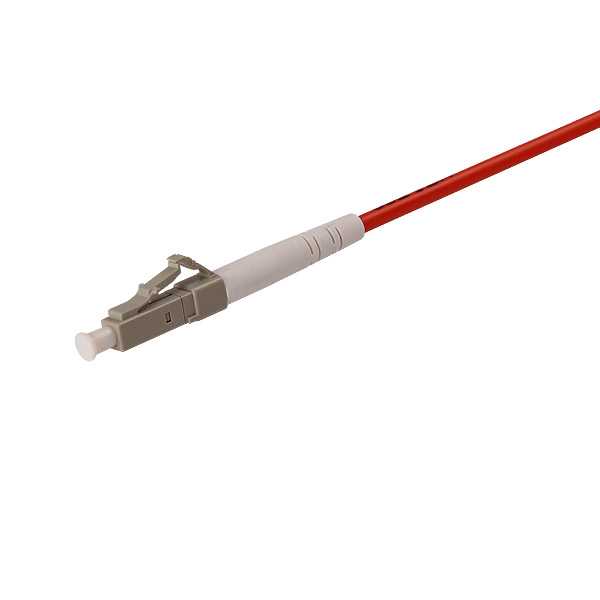 Pigtail LC Multimode 50/125um 1M
Model:

PGT-LC-SX-MM

Sample:

Free Sample in Stock

Time:

3 working days

Made:

Teleweaver

From:
Get Free Quote & Sample
Similar with Pigtail LC Multimode 50 125um 1M for options
Introduction to Pigtail LC Multimode 50 125um 1M
Fiber Optic pigtail is also known as fiber optic jumper or fiber optic patch cord. It is composed of a fiber optic cable terminated with different connectors on the ends. Fiber optic pigtail is one of most commonly used components in fiber optic network.
Features:
Connector Type: LC to Raw Fiber (Pigtail)
Fiber Type:1* Multi-mode, OM2 50/125UM
Core/Cladding Diameter: Multi-Mode
Length: 1 Meter
Low Loss
Pigtail LC Multimode 50 125um 1M Specification
| Parameters | Value |
| --- | --- |
| Fiber Connector | LC |
| Polish Type | UPC |
| Fiber Type | multimode |
| Fiber Count | Simplex |
| Jacket OD | 0.9mm/2.0mm/3.0mm |
| Jacket Material | PVC/LSZH/OFNR |
| Insertion loss | ≤0.3dB |
| Return loss | ≥45dB |
| Tensile Strength | >100N |
| Durability(Times) | >1000 |
| Minimum Bend Radius | 30mm |
| Operating temperature | -40°C~80°C |
| Fiber-Grade | G652D/G657A |
| Cable Length | 1m/2m/3m/5m… |
FAQs on Pigtail LC Multimode 50 125um 1M
Q:Is this connector length included in the total pigtail length? For example, for a 1m pigtail, is the length distribution a 0.02m connector + 0.96m cable or a 0.06m connector + 1m cable ?
A:The connector length of 0.02m is included in the total length. The total length is the distance from the connector ferrule at one end to other end.
Q:Is this pigtail suitable for outdoor use?
A:No,fiber pigtail cables are usually unjacketed for they are usually spliced and protected in a fiber splice tray.
Q:What is om1 om2 om3 and om4?
A: OM1, OM2, OM3 and OM4 represent different generations of multimode fiber (MMF). OM1 is 62.5µm core diameter, while OM2, OM3 and OM4 are 50µm core diameter. OM2 is considered standard 50µm MMF, while OM3 and OM4 fibers are laser-optimized multimode fibers (LOMMF).
Get FREE Quote & Sample in 12 Hours