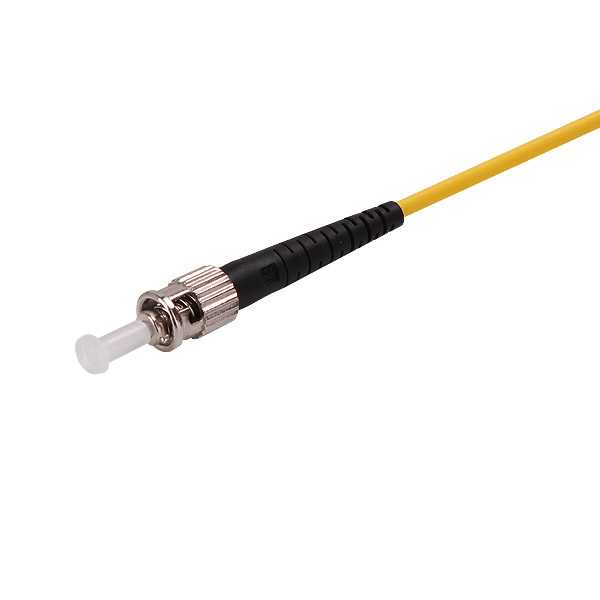 Pigtail ST Single Mode 9/125um PVC / LSZH Jacket
Model:

PGT-ST-APC-SM

Sample:

Free Sample in Stock

Time:

3 working days

Made:

Teleweaver

From:
Get Free Quote & Sample
Similar with Pigtail ST for options
Introduction to Pigtail ST
ST PC Pigtail used in permanent connections between fiber patch panels and incoming cables / single blown fibers. There are two types of ST PC pigtail:multimode and singlemode.
Features:
Constructed from high quality connectors and standard fibers
Tight Buffer 900µm buffer internal construction as standard
Custom lengths
Other cable diameters and fibre types available on request
Pigtail ST Specification
| Parameters | Value |
| --- | --- |
| Fiber Connector | ST |
| Polish Type | UPC |
| Fiber Type | Singlemode |
| Fiber Count | Simplex |
| Jacket OD | 0.9mm/2.0mm/3.0mm |
| Jacket Material | PVC/LSZH/OFNR |
| Insertion loss | ≤0.25dB |
| Return loss | ≥50dB |
| Tensile Strength | >100N |
| Durability(Times) | >1000 |
| Minimum Bend Radius | 30mm |
| Operating temperature | -40°C~80°C |
| Fiber-Grade | G652D/G657A |
| Cable Length | 1m/2m/3m/5m… |
FAQs on Pigtail ST
Q:Does single mode fiber support 10g?
A:When it comes to single mode fiber types, it can be categorized into OS1 and OS2 fiber, which are SMF fiber specifications. … Both OS1 and OS2 fiber optic cable support Gigabit and 10G Ethernet links. Besides, OS2 fiber can support 40G and 100G Ethernet links.
Q:Is Orange fiber single mode or multimode?
A:Fiber optic cable jacket colors can make it fast and simple to recognize exactly which type of cable you are dealing with. For example, the color yellow clearly identifies a single mode cable, while orange indicates multimode.
Q:Please tell more about the single mode and the multi mode.
A:The equipment used for communications over multi-mode optical fiber is less expensive than that for single-mode optical fiber.Typical transmission speed and distance limits are 100 Mbit/s for distances up to 2 km (100BASE-FX), 1 Gbit/s up to 1000 m, and 10 Gbit/s up to 550 m.
Q:Can I connect multimode fiber to single mode?
A: Generally speaking, the answer is "no". Large optical loss will occur if a multimode transceiver is connected with single mode fiber. However, the opposite will work. For example, 1000BASE-LX single mode SFP can work on multimode fiber cable by using mode conditioning fiber cable.
Get FREE Quote & Sample in 12 Hours