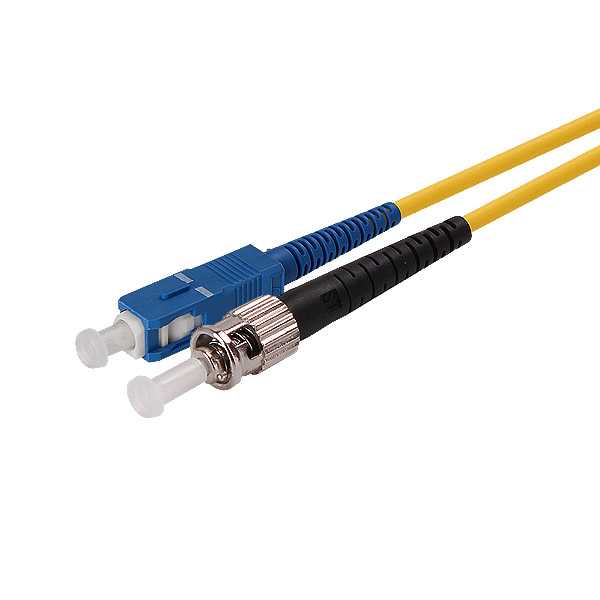 ST to SC Cable Single Mode Simplex UPC
Model:

PAT-SC-ST-SM-SX

Sample:

Free Sample in Stock

Time:

3 working days

Made:

Teleweaver

From:
Get Free Quote & Sample
Similar with ST to SC Cable for options
Introduction to ST to SC Cable
The ST to SC Cable is terminated with one ST connector and one SC connector, to provide connection between fiber networking devices for high-speed, long distance networks. ST to SC Cable has yellow jacket and a long working distance. This ST to SC Cable model consists of one side-by-side simplex cables with Ultra Polished Connector (UPC).
Teleweaver ST to SC Fiber Cable is individually tested for quality and reliability and feature Corning glass and superior construction.
ST to SC Cable Specification
| Parameters | Value |
| --- | --- |
| Connector Type | ST to SC |
| Polish Type | UPC |
| Fiber Mode | OS2 9/125μm |
| Insertion Loss | ≤0.3dB |
| Return Loss | ≥60dB |
| Wavelength | 1310/1550nm |
| Fiber Grade | G.652.D |
| Minimum Bend Radius | 30mm |
| Attenuation at 1310 nm | 0.36 dB/km |
| Attenuation at 1550 nm | 0.22 dB/km |
| Fiber Count | Simplex |
| Cable Diameter | 2.0mm |
| Cable Jacket | PVC |
| Polarity | A(Tx) to B(Rx) |
| Operating Temperature | -20~70°C |
| Storage Temperature | -40~80°C |
FAQs on ST to SC Cable
Q: How does this ST to SC Cable work?
A: Thank you for your kindly questions. ST to SC Cable works through carrying communication signals using pulses of light generated by small lasers orlight-emitting diodes. The centre of each strand is called the core, this core is the pathway for light to travel. The core is surrounded by a layer of glass that reflects light inward to avoid loss of signal and allows the light to pass through bends in the ST to SC Cable.
Get FREE Quote & Sample in 12 Hours