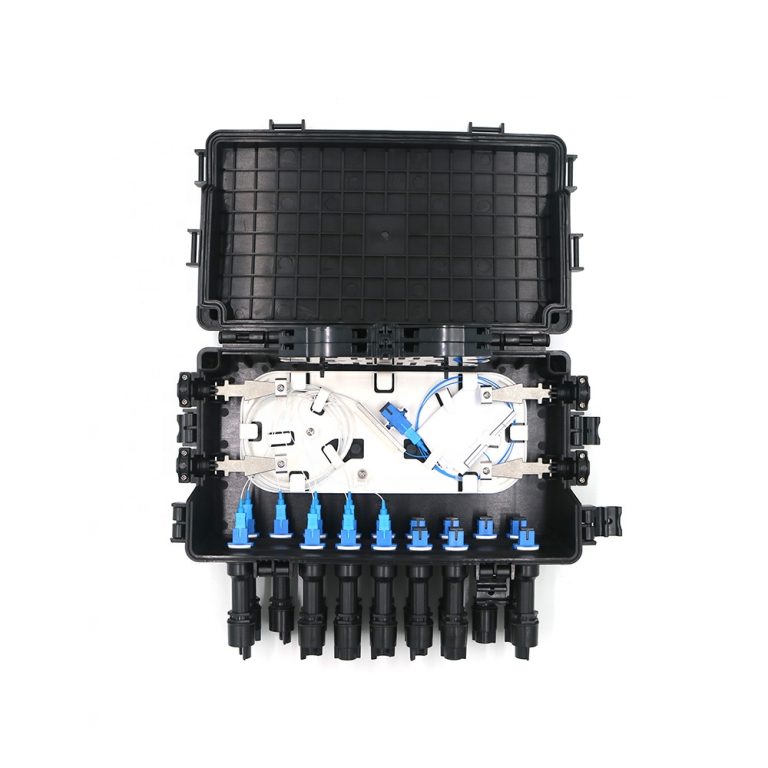 16 ports fiber optic distribution box FDBN16A
Model:

FDBN16A

Sample:

Free Sample in Stock

Time:

3 working days

Made:

Teleweaver

From:
Get Free Quote & Sample
Similar with 16 ports fiber optic distribution box for options
Introduction to 16 ports fiber optic distribution box
16 ports fiber optic distribution box FDBN16A used to splice cable with max. 12.5 mm dia. and allow 16 pcs drop cable with fast connector exit. Adopt engineering plastic in scientific formula with excellent mechanical strength, can prevent aging effectively caused by cold, hot, oxygen, UV etc. Can splice and connect the optic fibers in aerial, pole or wall mounting environment. Reliable sealing performance, convenient for repeated use.
Features:
Ingress Protection: IP65
Seal with silicon rubber ring at the closure body and entry ports. Adopt plastic clip type lock for easy reopen and maintenance
Provide 4 pcs 12~24F entry port block and sealing tape for flexible application. Guarantee a reliable and practical seal
performance of the entry ports
Adapter number: max hold 16pcs simplex SC installation sized adapters.
Splitter:Available for 1pc 2:16 or 2 pcs 1:8 micro PLC splitter's adapters
All the metal part use Stainless Steel material.
Advantage of fast connector exit: No need to open the closure for adjusting the signal. Only plug the fast connectors to adjust.
Main Technical Index:
Available optic fiber bending radius :≥37.5 mm
Excessive loss fiber length :≥1.6 m
Max splice capacity: 48 F (single fiber)
Working Temperature:-40ºC~+70ºC
Lateral pressure resistance:≥2000N/10cm
Impact resistance :≥20N.m
16 ports fiber optic distribution box Specification
| Parameters | Value |
| --- | --- |
| Material | ABS+PC |
| IP Protection | IP65 |
| Max. Capacity of Fiber | No. Of Ports |
| No. Of Ports | 2pcs round on both side: for 8-12mm 16pcs fast connector ports for drop cable |
| Max. Adapter Number | 16 |
| Avaiable splitter | 1pc 1*16 or 2pcs 1*8 Mini PLC Splitter |
| Outlet Port Diameter | 12.5mm |
| Installation Type | Wall mount |
| Dimensions (HxWxD) | 359mm*277mm*120mm |
| Weight (g) | 2000g |
FAQs on 16 ports fiber optic distribution box
Q: Can you list some of your main customers?
A: Domestic: China Telecom, China Mobile, China Unicom, Huawei, Fiberhome, ZTE.
Abroad: Furukawa, TOT, STC, Commscope, Verizon, Smart, etc.
Get FREE Quote & Sample in 12 Hours