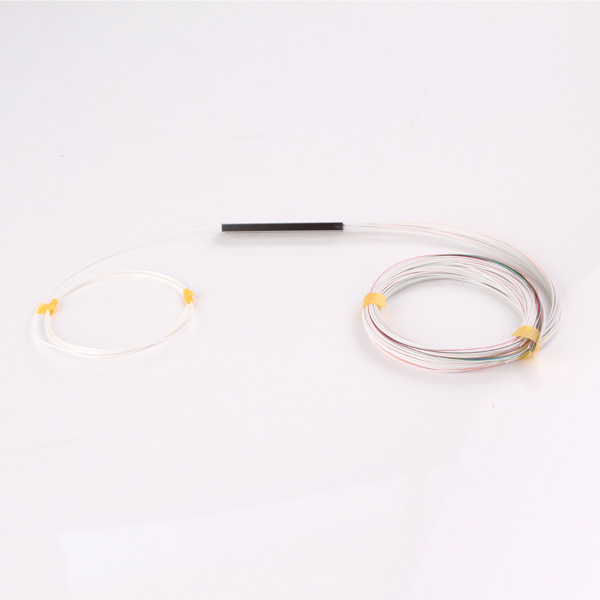 1×12 Bare Fiber PLC Splitter
Model:

PLC-1-12-BARE

Sample:

Free Sample in Stock

Time:

3 working days

Made:

Teleweaver

From:

Tag:
Send Inquiry Now
Similar with PLC Splitter 1x12 for options
Introduction to PLC Splitter 1x12
The planar optical wave circuit (PLC) splitter is an optical power management device made of silicon optical waveguide technology, which distributes optical signals from the central office (CO) to multiple locations.
Bare fiber splitter is an ODN product suitable for PON network. It can be installed in the pigtail box, test instrument and WDM system to minimize the space occupation. Optical fiber protection is relatively fragile, so it is necessary to carry out a complete protection design in the bearing box and equipment to protect the splitter.
Features
Channel: 1×12
Cable length: customized
Fiber type: G657A1 or as customized
Small Size
Package: PP bag or blister package
Low PDL Compact Design
Good channel-to-channel uniformity
Wide Operating Temperature: from -40℃ to 85℃
PLC Splitter 1x12 Specification
| Parameters | Value |
| --- | --- |
| Configuration Type | 1x12 |
| PLC Splitter Type | Bare Fiber Blockless PLC Splitter |
| Connector Type | None |
| Fiber Type | Singlemode G657A1 or G652D |
| Fiber Length | 1m or 1.5m or Requested |
| Package Style | Blockless Steel Tube |
| Operating Bandwidth | 1260~1650nm |
| Fiber Diameter | 0.9mm |
| Typical Insertion Loss (≤) dB | 12.1 |
| Insertion Loss (≤) dB | 13.2 |
| Loss Uniformity (≤) dB | 1.8 |
| Polarization Dependent Loss (≤) dB | 0.4 |
| Wavelength Dependent Loss (≤) dB | 0.6 |
| Return Loss (≥) dB | 50 |
| Directivity (≥) dB | 55 |
| Temperature Dependent Loss (≤) dB | 0.8 |
FAQs on PLC Splitter 1x12
Q:What is the difference between the bare fiber and Blockless splitter?
A:Bare fiber-All ends are bare fibers (0.9/2.0/3.0µm), easy to be spliced.Requires the least space during cabling;the Blockless splitter is Resembles bare fiber PLC splitter, but has fiber optic connectors.Uses stainless tube package for the PLC splitter chip.
Q:Can I Install a Cable Splitter on My Own?
A:Most people will choose to have a cable or internet company come out to install a splitter.
Send Inquiry Now
Please feel free to contact us if you are looking for FREE sample for this , We will get back to you within 6-12 hours.