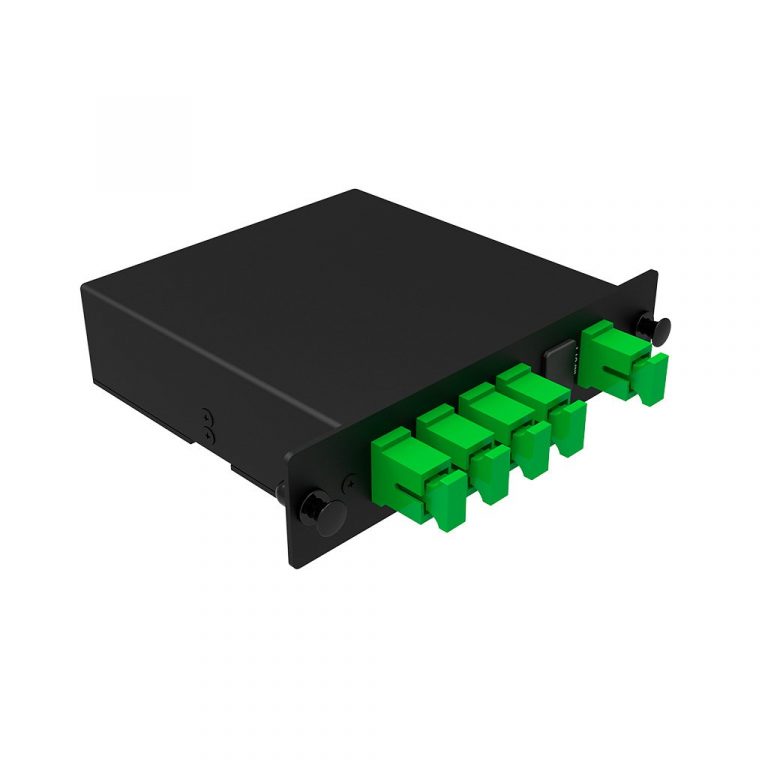 1×4 LGX Module PLC Splitter
Model:

PLC-1-4-LGX

Sample:

Free Sample in Stock

Time:

3 working days

Made:

Teleweaver

From:

Tag:
Send Inquiry Now
Similar with 1x4 PLC Splitter for options
Introduction to 1x4 PLC Splitter
1×4 PLC Splitter is a type of optical power management device that is fabricated using silica optical waveguide technology to distribute optical signals from Central Office (CO) to multiple premise locations. 1×4 PLC SplitterLGX Module provides a plug-and-play method for integration in the network, which eliminates any risks during installation. It eliminates the need for splicing machines on the field and there is no need for skilled personnel for deployment. The following figure shows 1×4 LGX PLC Splitter applied in the 1U rack chassis in GPON network.
Applications:
LAN, WAN & Metro Networks
Telecommunication Networks
Passive Optical Networks
FTT(X) Systems
CATV
Value Added Module
1x4 PLC Splitter Specification
| Parameters | Value |
| --- | --- |
| Configuration Type | 1x4 |
| PLC Splitter Type | LGX Mini Plug Box |
| Connector Type | SC/APC |
| Fiber Type | Singlemode G657A1 or G652D |
| Fiber Length | 1m or 1.5m or Requested |
| Package Style | Blockless Steel Tube |
| Operating Bandwidth | 1260~1650nm |
| Fiber Diameter | 0.9mm |
| Typical Insertion Loss (≤) dB | 7 |
| Insertion Loss (≤) dB | 7.2 |
| Loss Uniformity (≤) dB | 0.4 |
| Polarization Dependent Loss (≤) dB | 0.2 |
| Wavelength Dependent Loss (≤) dB | 0.3 |
| Return Loss (≥) dB | 50 |
| Directivity (≥) dB | 55 |
| Temperature Dependent Loss (≤) dB | 0.5 |
FAQs on 1x4 PLC Splitter
Q:I have a question regarding PLC splitter. Is there any way to make it bi-directional, if you shine light into fiber 4, you will see any light out of the IN fiber?
A:Hi, PLC splitter is generally used in PON network, if you use it in PON network, then it can meet your requirement, but if not, it can not achieve the bi-directional transmission. Because if multiple transceivers in the same wavelength from fiber 4 transmit signals to the IN fiber transceiver, then this transceiver cannot distinguish the signals. And PON network adopts Time division multiplexing technology, so the transceiver can distinguish the signals from different transceivers.
Send Inquiry Now
Please feel free to contact us if you are looking for FREE sample for this , We will get back to you within 6-12 hours.