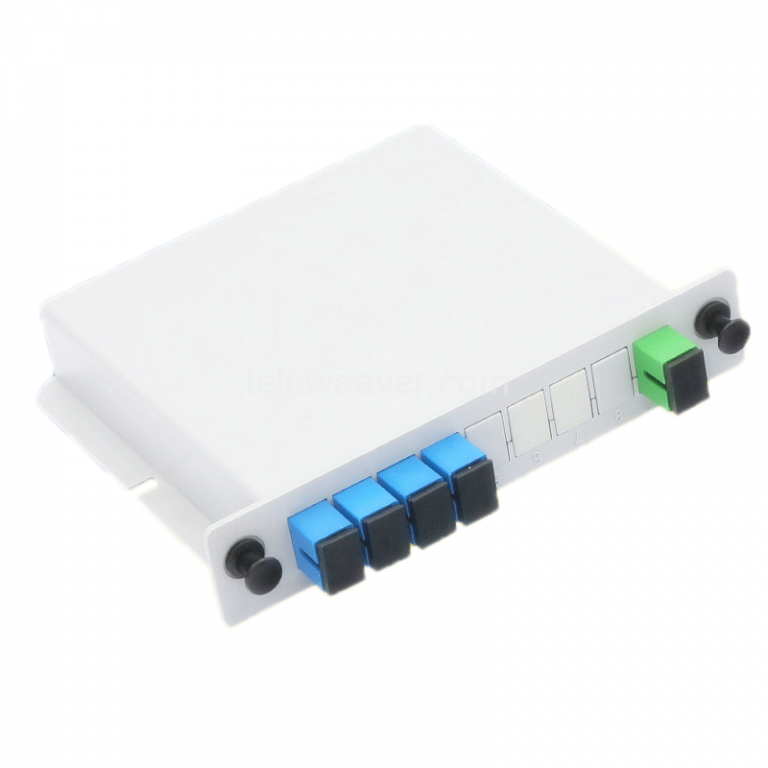 1×4 Cassette Module PLC Splitter
Model:

PLC-1-4-PLUG

Sample:

Free Sample in Stock

Time:

3 working days

Made:

Teleweaver

From:
Get Free Quote & Sample
Similar with PLC Splitter 1x4 for options
Introduction to PLC Splitter 1x4
PLC Splitter 1×4 is the optical passive device, optical signal splitter or combiner, optical signal is generally on the same wavelength separation or combination. PLC Splitter 1×4 is a key component of the FTTX network. According to the different optical splitter port arrangement, and the tree splitter structure can be divided into symmetric and asymmetric star splitter. PLC Splitter 1×4 also can be divided into single-mode and multimode optical splitter. At the same time, PLC Splitter 1×4 Cassette Module can be made into narrowband optical splitter and broadband optical splitter.
Applications:
LAN, WAN & Metro Networks
Telecommunication Networks
Passive Optical Networks
FTT(X) Systems
CATV
Value Added Module
PLC Splitter 1x4 Specification
| Parameters | Value |
| --- | --- |
| Configuration Type | 1x4 |
| PLC Splitter Type | Cassette Module PLC Splitter |
| Connector Type | SC/UPC |
| Fiber Type | Singlemode G657A1 or G652D |
| Fiber Length | 1m or 1.5m or Requested |
| Package Style | Blockless Steel Tube |
| Operating Bandwidth | 1260~1650nm |
| Fiber Diameter | 0.9mm |
| Typical Insertion Loss (≤) dB | 7 |
| Insertion Loss (≤) dB | 7.2 |
| Loss Uniformity (≤) dB | 0.4 |
| Polarization Dependent Loss (≤) dB | 0.2 |
| Wavelength Dependent Loss (≤) dB | 0.3 |
| Return Loss (≥) dB | 50 |
| Directivity (≥) dB | 55 |
| Temperature Dependent Loss (≤) dB | 0.5 |
FAQs on PLC Splitter 1x4
Q:Does this splitter can be used in OM1 application?
A:No, it doesn't. Our PLC splitters only support singlemode application, and the fiber type is G657A1, if you want multimode splitters, please refer to FBT Coupler Splitter
Get FREE Quote & Sample in 12 Hours