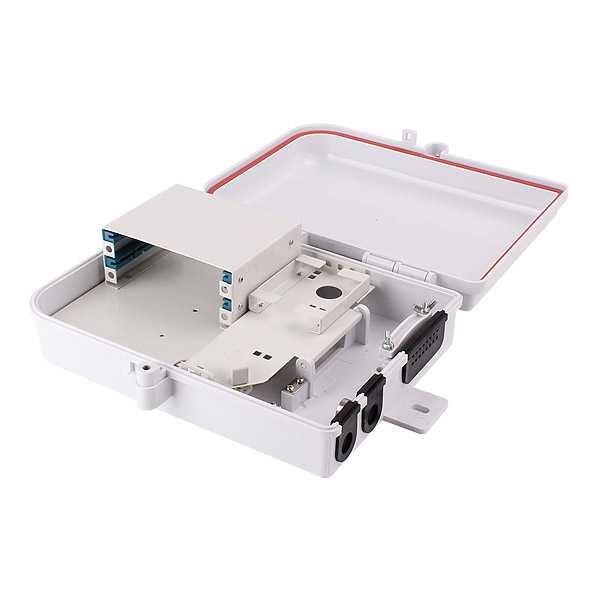 16 Ports Wallmounted Indoor/Outdoor Outdoor Fiber Optic Distribution Box FDB16C
Model:

FDB16C

Sample:

Free Sample in Stock

Time:

3 working days

Made:

Teleweaver

From:

Tag:
Send Inquiry Now
Similar with 16 Ports Outdoor Fiber Optic Distribution Box for options
Introduction to 16 Ports Outdoor Fiber Optic Distribution Box
This 16 port Indoor / Outdoor Wall Mounted Access Termination FTTH Optical Fiber Distribution Box Enclosure comes with 2 ports for fiber optic cables both indoor and outdoor are workable. And there are 16 ports for drop fiber optic cable 3.0*2.0mm diameter. Inside this splitter distribution box, you can assembly 1:16 PLC LGX optical splitter connected with adapters. Then the drop cable with connectors can be easily connected with the adapters for use.
Unload or Preloaded with 1:16 PLC LGX fiber splitter with SC/UPC, SC/APC fiber adapters
Free Fiber Splitter Distribution Box Sample
Made of High Quality ABS Flame Resistant Material
Suitable to SC LC Fiber Adapters & Pigtails
Reasonable Bending Radius for Fiber Protection
Maxmized Space for fiber optic component cablings
LGX PLC fiber optic splitter Competiable
16 Ports Outdoor Fiber Optic Distribution Box Specification
| Parameters | Value |
| --- | --- |
| Material | ABS |
| IP Protection | IP65 |
| Max. Capacity of Fiber | 16 Fibers |
| No. of Adapter/Port | 16 |
| Suitable Adapter | SC |
| Accommodate Product | 1x16 PLC Splitter or SC pigtails |
| Inlet Port Diameter | Ф3mm |
| Outlet Port Diameter | Ф7-Ф12mm |
| Installation Type | Wall mount |
| Dimensions (HxWxD) | 340mm*260mm*90mm |
| Weight (g) | 1620g |
Send Inquiry Now
Please feel free to contact us if you are looking for FREE sample for this , We will get back to you within 6-12 hours.