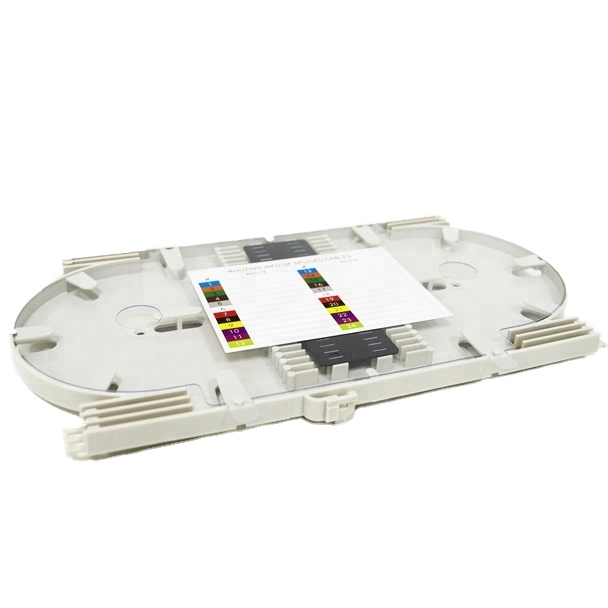 Fiber Optic Tray 48cores FOSTN48A
Model:

FOSTN48A

Sample:

Free Sample in Stock

Time:

3 working days

Made:

Teleweaver

From:
Get Free Quote & Sample
Similar with Fiber Optic Tray for options
Introduction to Fiber Optic Tray
The Fiber Optic Tray 48cores is a device for connecting optical cables. Operation method: introduce the optical cable into the fiber melting disc, weld it, and finally package it. Fiber Optic Tray FOSTN48A used for welding and branching of optical fiber. The cover can be turned over and the disk can be stacked to expand the capacity. It is very convenient to install and use. . optical wiring products, plastic accessories. The splicing panel is assembled in the optical cable junction box. Part of the optical fiber is fused with the tail fiber for connection scheduling, and the other part is directly connected with other optical cables (direct melting).
Characteristics
1. high density splice trey , ultrothin , 6mm thickness
2. with cable management function, save space  , 1U max can load 24 splice *4 layers
3. with cable management mark
4. flexible to assemble to different pannel
Fiber Optic Tray Specification
| Parameters | Value |
| --- | --- |
| Fiber Type | Single Fiber |
| Capacity | 48 cores |
| Material | ABS+PC |
| Appliation | Dome Fiber Splice Closure |
| Dimension (mm) | 275mmX144mmX10mm |
| Weight | 114g |
FAQs on Fiber Optic Tray
Q:What size fusion splice tubes are recommended for this splice tray?
A:Thanks for your question, in addition to the double ceramic, the size of all the fiber fusion splice tubes on our website are suitable, here is the link for your reference: fiber fusion splice tubes
Get FREE Quote & Sample in 12 Hours