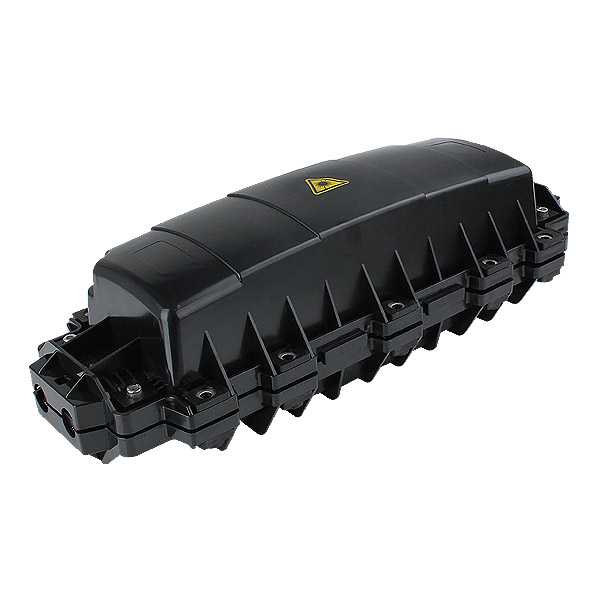 Horizontal Fiber Joint Enclosure #FOSCH006
Model:

FOSCH006

Sample:

Free Sample in Stock

Time:

3 working days

Made:

Teleweaver

From:
Get Free Quote & Sample
Similar with Fiber Joint Enclosure for options
Introduction to Fiber Joint Enclosure
The Fiber Joint Enclosure can be used in aerial, direct burial and duct. The strong housing and main components achieve fire-resistant, waterproof and quakeproof protection of splicing while pulling,tension and impact – it keeps joint enclosure used in bad natural environment for a long time while guarantee best quality of the product.
This flexibility makes the Fiber Joint Enclosure suitable for almost any area of application. From distribution and branch off joints to connecting closures, the Fiber Joint Enclosure is a strong performer in all disciplines and can be adapted to any task. The cable gripper is fastened outside the Fiber Optic Joint Enclosure – for example, this can be done quickly and easily on a work table. The inner mechanisms of the Fiber Joint Optical Enclosure remain undisturbed and protected during assembly work.
Fiber Joint Enclosure Specification
| Parameters | Value |
| --- | --- |
| Cable Ports | 4 Entries |
| Cable Diameter | Ф8~Ф20mm |
| Max. Capacity of Fiber | 24 Fibers |
| Splice Tray | 288 Fibers |
| Sealing Type | Shrinkable Seal Type |
| Installation Type | Pole-Mounted |
| IP Rating | IP68 |
| Lateral Pressure Resistance | ≥2000N/10cm |
| Shock Resistance | ≥20N.m |
| Operating Temperature | -40℃~ +80℃ |
| Dimensions (HxW) | 605x215x175 (mm) |
| Weight | 3050g-4600g |
FAQs on Fiber Joint Enclosure
Q: What is Max Capacity of this Fiber Joint Enclosure?
A: Thanks for your kindly question. The Max Capacity of this Fiber Joint Enclosure is 96 Fibers.
Get FREE Quote & Sample in 12 Hours