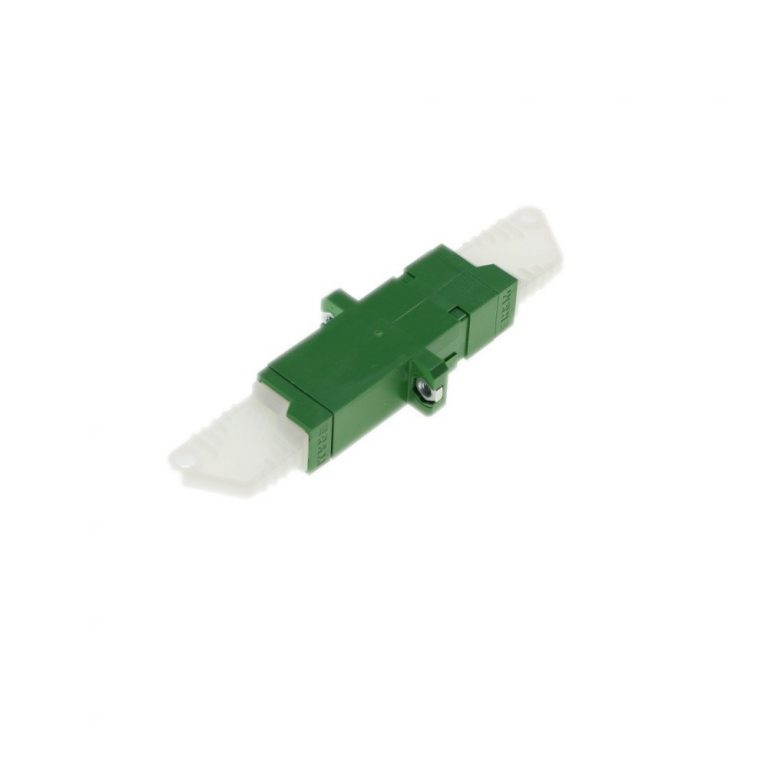 E2000 APC Adapter Single Mode Simplex
Model:

ADA-E2000-APC-SM-SX

Sample:

Free Sample in Stock

Time:

3 working days

Made:

Teleweaver

From:
Get Free Quote & Sample
Similar with e2000 apc adapter for options
Introduction to e2000 apc adapter
e2000 apc adapter Simplex Single Mode Green plastic is designed to connect the fiber optic patch cords which one head is E2000 connectors. or the fiber optic E2000 pigtails install in the ODF , fiber optic distribution box. E2000 APC Adapter Single Mode Simplex mostly used in the fiber optic single mode solutions. adapter E2000 apc duplex save more space compare with the E2000 apc simplex adapter. The E2000 connectors on these 2.8mm fiber optic cable assemblies provide you with superior performance as well as safety. E2000 fiber optic connectors include an integrated shutter system that protects you from high power laser emissions,  also protects the fiber optic connector ferrule from contamination.
Feature
· Low insertion and high return loss
· High Precision Alignment;
· Good Wearability;
· Good interchangeability;
· Good Temperature characteristic;
· Good repeatability.
e2000 apc adapter Specification
| Parameters | Value |
| --- | --- |
| Connector Type | E2000-E2000 |
| Fiber Type | Singlemode |
| Insertion Loss | less than 0.2dB |
| Package | 1pcs per PP bag |
| Polish Type | APC |
| Body Style | Simplex |
| Durability | 1000 times |
| Mounting Type | Full flanged |
| Alignment Sleeve Material | Ceramic |
| Color | Green |
| Package Quantity | 1pcs |
| Flammability Rate | UL94-V0 |
| RoHS Compliancy Status | Compliant |
FAQs on e2000 apc adapter
Q:Is there any difference in application between the single mode and multimode adapters?
A:There is no difference in application between the single mode and multimode adapters. The separate colours are designed for matching colours of fiber patch cables, proving convenience for distinguishing corresponding cables when cabling.
Get FREE Quote & Sample in 12 Hours