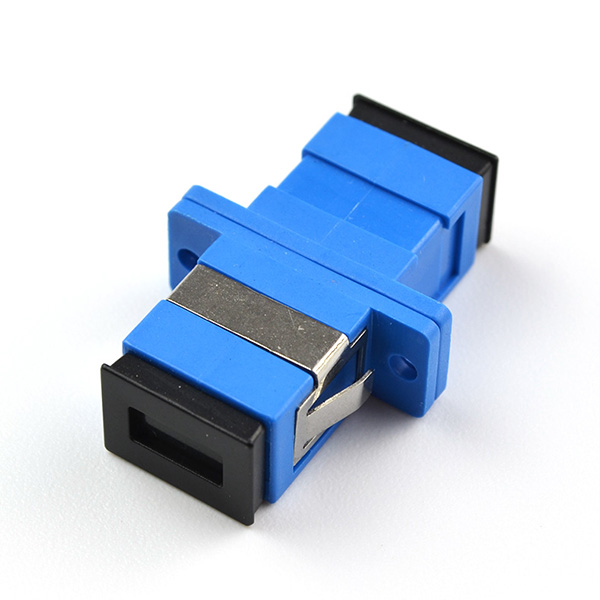 SC/UPC Singlemode Simplex Fiber Optic Adapter
Model:

Sample:

Free Sample in Stock

Time:

3 working days

Made:

Teleweaver

From:
Get Free Quote & Sample
Similar with SC adapter for options
Introduction to SC adapter
SC stands for "Subscriber Connector," while UPC stands for "Ultra Physical Contact," referring to the connector's physical interface. "Simplex" means that the adapter is designed to connect only one fiber, as opposed to duplex adapters, which are designed to connect two fibers. "Singlemode" refers to the type of optical fiber used, which is optimized for long-distance transmissions. The UPC polish on the connector is known for its high precision and low loss, making it ideal for use in high-performance optical networks.
SC adapter Specification
| Parameters | Value |
| --- | --- |
| Insertion loss | 0.3 dB ~ 0.5 dB |
| Return loss | greater than 50 dB |
| Durability | over 1000 times |
| Housing material | metal or high-quality plastic |
| Compliance | IEC, TIA/EIA, and GR-326-CORE |
| Operating temperature | -40°C to +85°C |
FAQs on SC adapter
SC/UPC vs. LC/UPC: What's the difference?
SC and LC are acronyms for "Subscriber Connector" and "Littel Connector," respectively. The "UPC" in both cases refers to "Ultra Physical Contact," which is a type of connector finish that provides a low insertion loss and high return loss, ensuring reliable and efficient optical signal transfer.
Size: The LC connector is smaller in size compared to the SC connector, making it more suitable for use in high-density fiber optic installations.

Termination: LC connectors are typically terminated using a small form factor (SFF) connector, while SC connectors are terminated using a larger connector.

Speed: LC connectors can support higher speeds compared to SC connectors, making them a better choice for applications such as 40 and 100 Gbps Ethernet.

Cost: LC connectors tend to be more expensive than SC connectors due to their smaller size and higher performance.

Availability: SC connectors are more widely available and have been used for a longer period of time compared to LC connectors, which are relatively new.
How to choose SC/UPC singlemode simplex fiber optic adapters?
Insertion loss: The insertion loss of the adapter should be low, typically less than 0.5 dB, to minimize signal degradation.

Return loss: A high return loss of at least 50 dB ensures that the signal is reflected back into the fiber instead of being absorbed by the connector.

Mating: The adapter should be made of high-quality materials and be designed to withstand regular use and the environment in which it will be used.

Operating temperature: The adapter should be able to operate within a wide temperature range, typically from -40°C to +85°C.

Wavelength range: Make sure the adapter is compatible with the wavelengths used in your network.

Compliance: The adapter should be compliant with industry standards such as IEC, TIA/EIA, and GR-326-CORE.

Interchangeability: If you plan to use multiple adapters in your network, make sure they are interchangeable and can be easily swapped out as needed.

Cost: Consider the cost of the adapter, but don't sacrifice performance for a lower price. A high-quality adapter will be much better for your application.
Get FREE Quote & Sample in 12 Hours