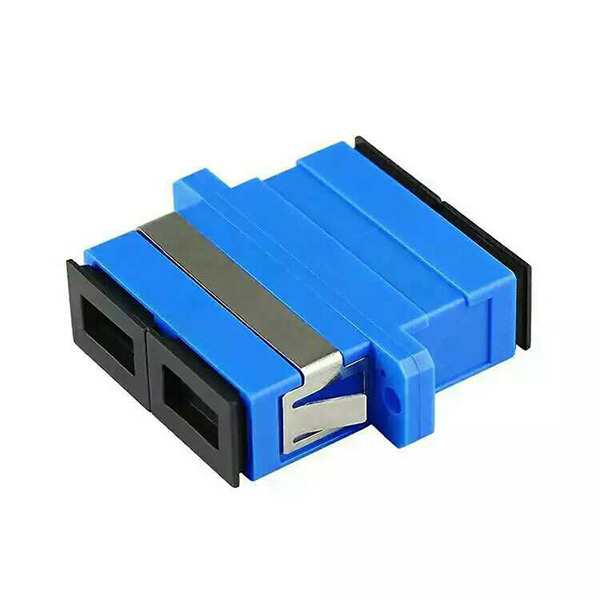 SC/UPC Singlemode Duplex Fiber Optic Adapter
Model:

Sample:

Free Sample in Stock

Time:

3 working days

Made:

Teleweaver

From:
Get Free Quote & Sample
Similar with SC UPC adapter for options
Introduction to SC UPC adapter
SC/UPC adapter is widely used in high-speed data communication systems, such as data centers and long-haul fiber optic networks. UPC (Ultra Physical Contact) refers to the smooth and round ferrule end face that helps reduce back reflection.
Benefits and advantages of SC/UPC Singlemode Duplex Fiber Optic Adapters
SC/UPC singlemode duplex fiber optic adapters have several benefits and advantages, including:
Low Insertion Loss: SC/UPC connectors have ultra-physical contact (UPC) polish, which provides a low insertion loss and high return loss, ensuring minimal signal loss and optimum signal quality.

High Reliability: SC/UPC connector's precision construction makes it highly reliable, providing consistent performance over time.

Ease of Installation: The compact design and simple push-pull latching mechanism of SC/UPC connectors make installation quick and easy, reducing the time and cost of installation.

Durability: they're typically made of high-quality materials, such as ceramic or metal, making them durable and able to withstand harsh environmental conditions.

High Bandwidth: Single-mode fiber optic adapters support high-speed, high-bandwidth data transmission, making them suitable for high-speed network applications.

Cost-effective: SC/UPC connectors are widely available and cost-effective, making them a popular choice for small and large network installations.
In conclusion, SC/UPC singlemode duplex fiber optic adapters offer a range of benefits, including low insertion loss, high reliability, compatibility, ease of installation, durability, high bandwidth, and cost-effectiveness, making them very popular.
SC UPC adapter Specification
| Parameters | Value |
| --- | --- |
| Insertion loss | Typically less than 0.3 dB |
| Return loss | Typically greater than 50 dB |
| Connector type | SC/UPC to SC/UPC |
| Fiber mode | Singlemode |
| Compliance | RoHS, Telcordia GR-326-CORE, TIA/EIA-604-10 |
| Housing material | Zirconia or Phosphor Bronze |
| Ceramic ferrule | Usually made of zirconia with a diameter of 2.5mm |
| Durability | More than 1000 mating cycles |
| Tx/Rx | Duplex |
FAQs on SC UPC adapter
How to choose SC/UPC Singlemode Duplex Fiber Optic Adapter?
Choosing the right SC/UPC singlemode duplex fiber optic adapter requires consideration of several factors, including:
* Compatibility: Make sure the adapter is compatible with your fiber optic cable and equipment.
* Insertion Loss: The insertion loss is the amount of light that is lost when the adapter is inserted into the optical path. The lower the insertion loss, the better the adapter will perform.
* Return Loss: Return loss is the amount of light that is reflected back from the interface of the adapter. High return loss indicates good reflection management, which is important for maintaining signal integrity.
* Durability: The adapter should be able to withstand the conditions of your environment, such as temperature, humidity, and mechanical stress.
* Compliance: Make sure the adapter complies with industry standards, such as Telcordia GR-326-CORE, IEC 61754-20, and RoHS.
* Brand Reputation: Choose a reputable brand that provides high-quality products and has a good track record in the industry.
* Cost: Consider the cost of the adapter and balance it against the performance and quality requirements of your application.
In summary, selecting the right SC/UPC singlemode duplex fiber optic adapter requires careful consideration of the application requirements and a thorough evaluation of the different options available on the market.
How to install SC/UPC Singlemode Duplex Fiber Optic Adapter?
Installing a SC/UPC singlemode duplex fiber optic adapter involves the following steps:
1. Prepare the cable: Before installing the adapter, make sure that the fiber cable is stripped and cleaved properly to expose the bare fiber.
2. Clean the fiber: Use a fiber optic cleaner to remove any dust, oil, or other contaminants from the end of the fiber.
3. Insert the fiber into the adapter: Align the fiber with the guides in the adapter, and gently insert the fiber into the connector until it clicks into place.
4. Verify the connection: Use a fiber optic power meter or light source to verify that the connection is secure and that light is passing through the fiber.
5. Repeat the process for the other fiber: Repeat steps 2-4 for the second fiber in the duplex adapter.
6. Secure the adapter: Once both fibers have been connected, make sure that the adapter is securely attached to the device or panel.
7. Test the connection: Finally, perform a full end-to-end test of the fiber optic link to verify that the signal is being transmitted properly.
Note: The specific instructions may vary depending on the type of adapter you are using, so make sure to consult the manufacturer's instructions for the best results.
Get FREE Quote & Sample in 12 Hours