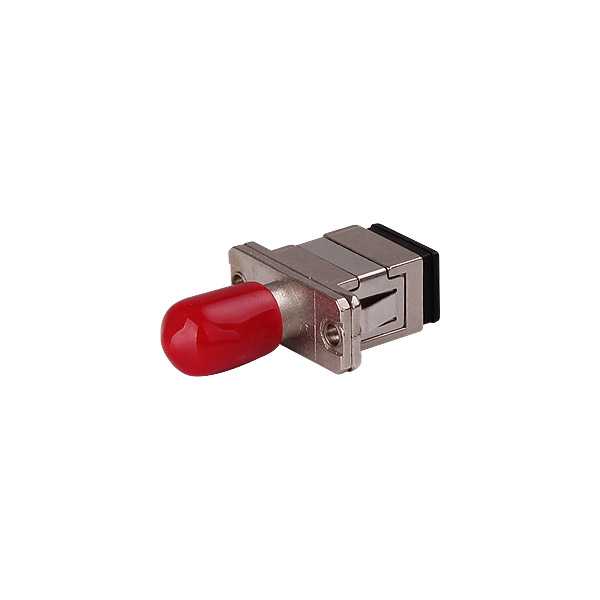 Fiber Optic ST to SC Adapter Female to Female plastic UPC
Model:

ADA-ST-SC-SX

Sample:

Free Sample in Stock

Time:

3 working days

Made:

Teleweaver

From:
Get Free Quote & Sample
Similar with fiber optic st to sc adapter for options
Introduction to fiber optic st to sc adapter
Fiber optic adapter (also called fiber optic coupler), is a medium designed to connect two fiber optic cables or fiber optic connectors together. It provides a great solution to meet the growing demand for small form factor, high-density fiber optic connectivity.
The ST to SC Adapter is a special style of fiber optic adapter that supports precision connection of different types of fiber optic connectors. It is specially designed to incorporate the Small Form Factor ST into SC configured environment. The compact design enables network operators to reduce cost via space-savings, and by eliminating hybrid cable assemblies.
fiber optic st to sc adapter Specification
| Parameters | Value |
| --- | --- |
| Connector Type | E2000-E2000 |
| Fiber Type | Singlemode |
| Insertion Loss | less than 0.2dB |
| Package | 1pcs per PP bag |
| Polish Type | APC |
| Body Style | Simplex |
| Durability | 1000 times |
| Mounting Type | Full flanged |
| Alignment Sleeve Material | Ceramic |
| Color | Green |
| Package Quantity | 20pcs |
| Flammability Rate | UL94-V0 |
| RoHS Compliancy Status | Compliant |
FAQs on fiber optic st to sc adapter
Q:What is the difference between the singlemode and the multimode?
A:Actually, there is no technical difference between singlemode and multimode couplers. The separate colours are designed for matching colours of fiber patch cables, proving convenience for distinguishing corresponding cables when cabling.
Get FREE Quote & Sample in 12 Hours