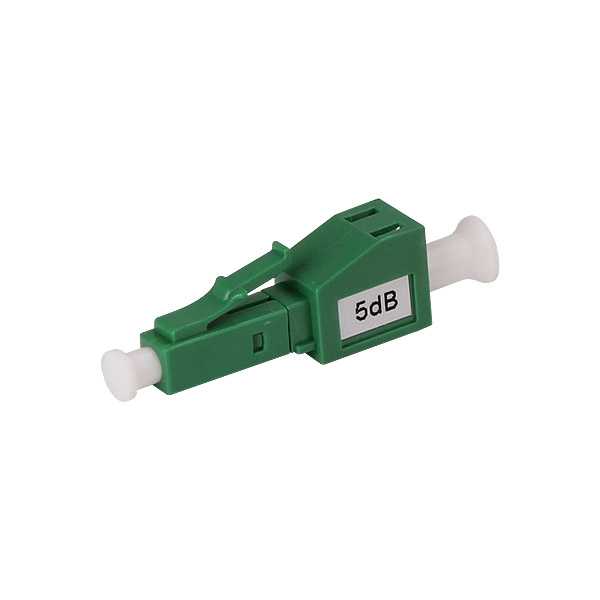 LC APC Attenuator Single Mode Female to Male Fix Type 5dB
Model:

ATT-LC-APC-FF-5

Sample:

Free Sample in Stock

Time:

3 working days

Made:

Teleweaver

From:
Get Free Quote & Sample
Similar with LC APC Attenuator for options
Introduction to LC APC Attenuator
Often when running fiber optic cable over short distances the optical power will be too strong. people use LC APC Attenuator to prevent over saturating an optical receiver when the optical power is too high. Using attenuators will ensure low bit error rates and prevent damage to receiving components.  The optical attenuator is a male to female configuration and connectorized with LC.
Features:
Low back reflection
Wide wavelength range
Polarization insensitive
Compact and rugged housings
Hybrid style attenuator uses attenuating fiber
Mode independent multimode loopback attenuators
LC APC Attenuator Specification
| Parameters | Value |
| --- | --- |
| Fiber Connector | LC/APC |
| Connector Gender | Fixed Male to Female |
| Ferrule Type | Zirconia Ceramic |
| Transfer Mode | Singlemode |
| Attenuation | 1dB to 30dB |
| Operating Wavelength(nm) | 1260~1620(SM) |
| Attenuation Accuracy | ±0.5dB |
| Return Loss | ≥45dB |
| Polarization Dependent Loss | ≤0.2dB |
| Max Optical Input Power | 200mW |
| Humidity | 95%RH |
| Operating Temperature Range | -40~80°C |
| Storage Temperature Range | -40~85°C |
FAQs on LC APC Attenuator
Q:May I know the status of my order?
A:  Yes .The order information and photos at different production stage of your order will be sent to you and the information will be updated in time.
Get FREE Quote & Sample in 12 Hours