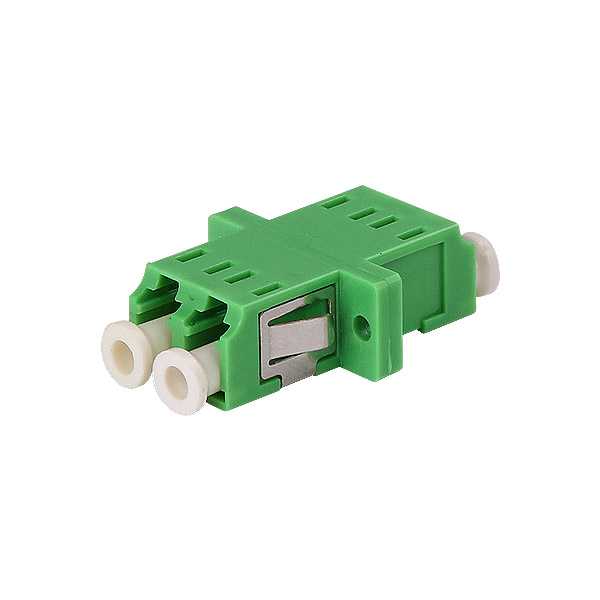 LC APC Duplex Adapter Single Mode
Model:

ADA-LC-APC-SM-DX

Sample:

Free Sample in Stock

Time:

3 working days

Made:

Teleweaver

From:
Get Free Quote & Sample
Similar with lc apc duplex adapter for options
Introduction to lc apc duplex adapter
Fiber optic adapter (also called fiber optic coupler), is a medium designed to connect two fiber optic cables or fiber optic connectors together. It provides a great solution to meet the growing demand for small form factor, high-density fiber optic connectivity.
This LC APC Duplex Adapter allows you to patch together duplex multimode LC connectors or LC fiber patch cables quickly. This LC coupler is particularly suitable to connect two multimode LCs for a fast, precisely, quality field connection. The LC adapters feature zirconia ceramic alignment sleeves which provide precision mating for multimode applications. They are suitable for use inside adapter plates, patch panels, and wall mounts.
Features:
High size precision
Fast and easy connection
Lightweight and durable plastic housings
Zirconia ceramic alignment sleeve
Color-coded, allowing for easy fiber mode identification
High wearable
Good repeatability
lc apc duplex adapter Specification
| Parameters | Value |
| --- | --- |
| Connector Type | LC |
| Fiber Type | Singlemode |
| Insertion Loss | less than 0.2dB |
| Package | 1pcs per PP bag |
| Polish Type | APC |
| Body Style | Duplex |
| Durability | 1000 times |
| Mounting Type | Full flanged |
| Alignment Sleeve Material | Ceramic |
| Color | Green |
| Package Quantity | 20pcs |
| Flammability Rate | UL94-V0 |
| RoHS Compliancy Status | Compliant |
FAQs on lc apc duplex adapter
Q:What is the difference between the singlemode and the multimode?
A:Actually, there is no technical difference between singlemode and multimode couplers. The separate colours are designed for matching colours of fiber patch cables, proving convenience for distinguishing corresponding cables when cabling.
Get FREE Quote & Sample in 12 Hours