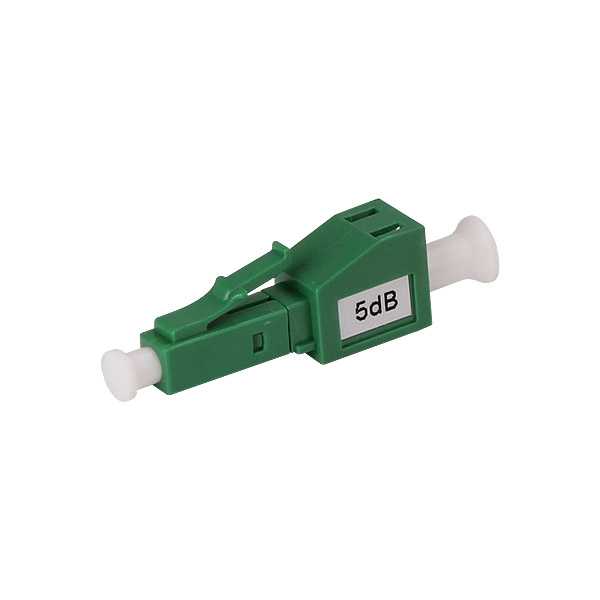 LC Optical Attenuator APC Single Mode Fixed Type Female to Male
Model:

ATT-LC-APC-FM

Sample:

Free Sample in Stock

Time:

3 working days

Made:

Teleweaver

From:
Get Free Quote & Sample
Similar with LC Optical Attenuator for options
Introduction to LC Optical Attenuator
LC Optical Attenuators are devices to reduce the optical fiber power by a certain level within lc connector of fiber optic network. Fiber Attenuators are usually used when the signal arriving at the receiver is too strong and hence may overpower the receiving elements. This may occur because of a mismatch between the transmitters/receivers (transceivers, media converters), or because the media converters are designed for a much longer distance than for which they are being used. Sometimes attenuators are also used for stress testing a network link by incrementally reducing the signal strength (increasing the dB attenuation) until the optical link fails, thus determining the signal's existing safety margin.
Features:
Environmentally stab
Easy Installation
Custom Designed Specifications
Low Return Loss
Readily Panel Mountable
Compact Packaging
Fixed attenuation values increments from 1 to 25dB.
LC Optical Attenuator Specification
| Parameters | Value |
| --- | --- |
| Fiber Connector | LC/APC |
| Connector Gender | Fixed Male to Female |
| Ferrule Type | Zirconia Ceramic |
| Transfer Mode | Singlemode |
| Attenuation | 1dB to 30dB |
| Operating Wavelength(nm) | 1260~1620(SM) |
| Attenuation Accuracy | ±0.5dB |
| Return Loss | ≥45dB |
| Polarization Dependent Loss | ≤0.2dB |
| Max Optical Input Power | 200mW |
| Humidity | 95%RH |
| Operating Temperature Range | -40~80°C |
| Storage Temperature Range | -40~85°C |
FAQs on LC Optical Attenuator
Q:May I know the status of my order?
A:  Yes .The order information and photos at different production stage of your order will be sent to you and the information will be updated in time.
Get FREE Quote & Sample in 12 Hours