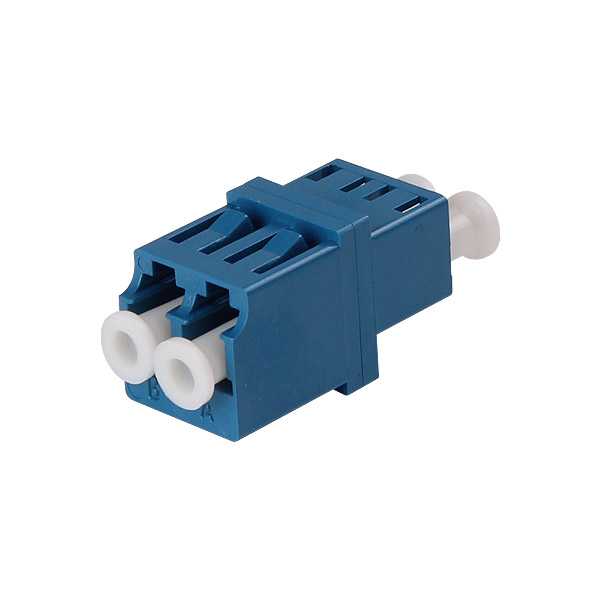 LC SM Duplex Adapter PC UPC Singlemode
Model:

ADA-LC-UPC-SM-DX

Sample:

Free Sample in Stock

Time:

3 working days

Made:

Teleweaver

From:
Get Free Quote & Sample
Similar with lc sm duplex adapter for options
Introduction to lc sm duplex adapter
The LC SM Duplex Adapter PC UPC Singlemode, also called LC/UPC Duplex SM Mating Sleeve/Adapter
LC SM Duplex Adapter PC UPC Singlemode mate LC (Lucent Connector) connectorized fibers with UPC (Ultra Physical Contact) endfaces.
Each side of this duplex fiber bulkhead has two female ports which hold LC connectors in precise alignment using surface to surface ultra physical contact resulting in low insertion loss and high return loss.
lc sm duplex adapter Specification
| Parameters | Value |
| --- | --- |
| Connector Type | LC |
| Fiber Type | Singlemode |
| Insertion Loss | less than 0.2dB |
| Package | 1pcs per PP bag |
| Polish Type | UPC |
| Body Style | Duplex |
| Durability | 1000 times |
| Mounting Type | Full flanged |
| Alignment Sleeve Material | Ceramic |
| Color | Blue |
| Package Quantity | 20pcs |
| Flammability Rate | UL94-V0 |
| RoHS Compliancy Status | Compliant |
FAQs on lc sm duplex adapter
Q:Is this lc sm duplex adapter so i can plug an lc fiber into an sc port on my light meter?
A:Correct. LC ends are much smaller than SC ends, and this adapter (in my experience) is essential, especially since most fiber connections are trending to LC.
Get FREE Quote & Sample in 12 Hours