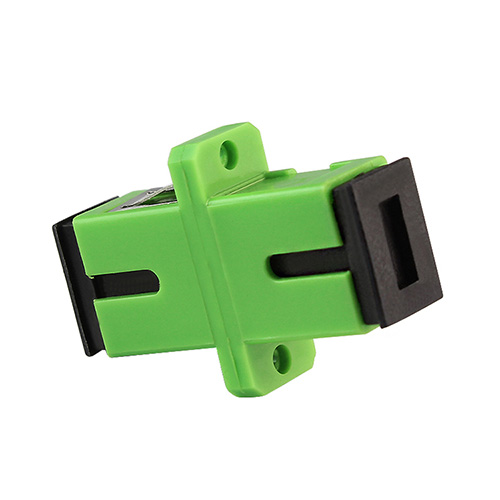 SC/APC Singlemode Simplex Fiber Optic Adapter
Model:

Sample:

Free Sample in Stock

Time:

3 working days

Made:

Teleweaver

From:
Get Free Quote & Sample
Similar with SC adapter for options
Introduction to SC adapter
SC/APC (Subscriber Connector/Angled Physical Contact) is a type of optical fiber connector that uses a simplex ferrule and is commonly used for single-mode fiber optic communication. It has a ceramic ferrule with a physical contact angle designed to prevent light from leaking out the end of the connector, ensuring higher optical performance. The APC design helps to reduce back reflection levels, which can cause signal degradation in high-speed optical networks. The simplex configuration of the adapter allows for one-way communication on a single fiber.
SC/APC singlemode simplex fiber optic adapters are used to connect two singlemode fiber optic cables with an SC/APC connector. These adapters are commonly used in high-speed data transmission systems and are ideal for applications that require high bandwidth and low loss.
SC adapter Specification
| Parameters | Value |
| --- | --- |
| Insertion Loss | less than 0.3dB |
| Return Loss | greater than 50dB |
| Durability | thousands of mating cycles |
| Standards Compliance | Telcordia GR-326, IEC 61754-4, and TIA/EIA 604-10. |
| Wavelength | 1310nm or 1550nm. |
| Operating Temperature | -40°C and 85°C |
| Cable Compatibility | single-mode fiber optic cable |
FAQs on SC adapter
What is an SC adapter?
An SC adapter is a type of optical fiber connector that uses a push-pull latching mechanism to connect two fibers. The name "SC" stands for "Subscriber Connector".
What is the difference between SC and LC connectors?
SC connectors have a larger diameter than LC (Luxeon Compact) connectors, and have a push-pull latching mechanism, while LC connectors have a small diameter and use a simple snap-in mechanism.
How are SC adapters used?
SC adapters are commonly used in fiber optic communication systems, such as Ethernet and Fibre Channel networks, to connect two fiber optic cables. They are used to join two fiber optic patch cords or to mate fiber optic components in a fiber optic network.
What are the benefits of using SC adapters?
SC adapters offer a reliable and secure connection, with low insertion loss and back reflection. They are easy to install and have a long lifespan. Additionally, SC adapters are compatible with a wide range of fiber optic cables and equipment.
Get FREE Quote & Sample in 12 Hours